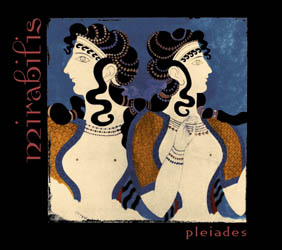 Pleiades
(MPP983) Middle Pillar Presents ©2004
(Projekt206) Reissue on Projekt/Middle Pillar Presents in 2007
Featuring guest artists Regeana Morris of The Changelings, Katy Belle of Matson Belle, and introducing Rebecca Colleen Miller.
Purchase from Amazon.com
, the Machine in the Garden and other retailers.
Reviews of Pleiades:
If you're a fan of the modern goth scene, chances are you are familiar with the names of Dru Allen and Summer Bowman; as the duo behind Mirabilis, both of them have amassed quite a following with their respective bands (Dru in This Ascension, and Summer in Machine in the Garden). While their prowess as vocalists is certainly not in question, this reviewer has noticed the existence of a certain stigma regarding groups with female lead singers, that of possessing the "hot chick" singer as nothing more than eye candy to fill up shows and sell more records. A sexist statement that is certainly not shared by the majority of their fan bases, but one that exists nonetheless, denying not only the musical talent of the bands, but also the singers. Without having been to a live concert by This Ascension or Machine in the Garden, one might not realize just what sort of musical skills these women have beyond being excellent vocalists. On Mirabilis' debut album Pleiades, they do away with preconceptions and clichés to create a work of absolute beauty.

With only the occasional help from backup musicians, the majority of Mirabilis' music is performed and produced by Dru and Summer. The centerpiece of the music is undoubtedly the soaring operatic vocal harmonies, showing just what a clear sense of both musical skill and personal camaraderie these two people share; not unlike that exhibited by the classic duo of Simon & Garfunkel, who are paid something of a tribute with a rhythmic and almost medieval rendition of "Scarborough Fair." The use of dulcimer strings and sparse tribal drumming on this track, as well as on "Moon" and "Invocation of the Sun" (which features Matson Belle on vocals, sounding similar to Monica Richards of Faith and the Muse), as well as the use of traditional texts and melodies from the 16th through 19th centuries show a classical folk mentality pervading throughout the music, something akin to what one might hear at a Renaissance Festival. Other pieces are written by Mirabilis, showing the duo's own compositional skills. Indeed, their pieces are just as satisfying, and some even haunting. Tracks like "In the Dark" and especially "Haunted" are reminiscent of Peter Gabriel's score music for Passion: The Last Temptation of Christ, full of sweeping drones of synthesizers and occasional flourishes of piano, once again displaying a sense for classical music.

Those who are expecting Dru and Summer to produce some sort of offshoot of their respective bands will be very surprised indeed to hear Mirabilis. This is no rehash of their past musical endeavors, but rather a new outlet for them to shine as both vocalists and musicians. Those who can appreciate their talents beyond being simply singers in goth rock bands will find much to behold on Pleiades. The vocals are breathtakingly beautiful, both in performance and production (no gratuitous use of effects besides the slightest of reverb and echo, and even then it is never used more than necessary). The music is minimalist, but plays as the perfect complement to the voices; they allow the lyrics to shine above all else, showing the voice to be the most powerful instrument in Mirabilis' repertoire. The voice alone could not carry this album if not for the sense of music behind the melodies and harmonies. If you're looking for an album of sparkling intensity as well as soothing ambience, Mirabilis' Pleiades will certainly satisfy.

-Ilker81x, ReGen Magazine

---

In Pleiades, transcendent vocalists Dru Allen (This Ascension) and Summer Bowman (The Machine in the Garden) unleash a wealth of neo-baroque fugues, cantos, and sonic meditations. These unfold over a murmuring pad of understated electronica, mixed with etchings of harpsichord, dulcimer, and similar medieval embellishments. Mirabilis is an exotic devolution from the two singers' earlier darkwave projects, and has produced an ethereal recording, untethered by contemporary beats, unmarked by time. Pleiades is historically pungent and spiritually potent, and takes the listener both backward and forward through the ages. I can't wait to see further developments.

-Duncan Wright, The Santa Barbara Independent

---

While making definitive gothic/ethereal music in separate bands, Dru Allen (This Ascension) and Summer Bowman (Machine in the Garden) fortunately found each other and discovered their mutual ability to harmonize their rich voices. Together they are Mirabilis, a neo-classical ensemble which reaps unique benefits from Dru and Summer's background in atmospheric rock. Most tracks on _Pleiades_ are traditional carols and early poems set to new musical arrangements, faithfully performed without excess instrumentation and updated just enough to captivate the attention of contemporary as well as classical music audiences. "Libera Me" is exceptional, slowly ascending, pulsing with long sustained notes and sung reverently in Latin; "Invocation of the Sun" and "Nox Nivosa" are carefully structured, strangeling versions of formal, powerful alchemical poems. "In the Dark," "Haunted," and "Ripple," all original compositions, are even more compelling than their medieval pieces, vibrating with encroaching, stormy tension. Beautiful vocals were expected from Mirabilis, but far beyond that, this release combines intuition, scholarship, and inspired talent. Brava!

-Carolee, Gothic Beauty

---

Neoclassical project Mirabilis bringing their debut long play. Behind this project stands gothic rock singers Dru Allen (This Ascension) and Summer Bowman (The Machine In The Garden). In contrast to their home bands, you can expect absorption in musical wider ocean between 14th and 17th century, reference to spirit of Dead can Dance between CD's Aion and Serpent's Egg. You will be intrude into poetry of Johna Benneta and Williama Drummonda and hear very deep and slow version of Scaborough Fair, romantic renaissance female duets (for an example in spanish or latin) with electronic or piano accompaniment. Mirabilis means in latin something that is wonderful, miraculous, or unusual. And I have to say, that exactly what band is like!

-Pavel Zelinka, Radio Akropolis (Note: This review has been translated by the author.)

---

Summer Bowman of the Machine in the Garden and Dru Allen from This Ascension make up Mirabilis. Their debut is a genre-bending treat. They mix traditional songs with new material and sing in heavenly fashion.

"Weep O Mine Eyes" is a 16th century song sung a A Cappella. The singers' voices are truly lovely.

"Haunted" is more modern and features some ghostly wailing.

"Libera Me" with words in Latin is like having angels singing directly at you. Bowman and Allen have always sung well but this is something else.

"Invocation of the Sun" has guest Katy Belle on lead vocals and her innocent-sounding voice is a beautiful. Martial drums and excellent programming compliment her singing.

"Scarborough Fair" (yes that one) is presented in a stunning version.

"Ripple" has Regeana Morris of the Changelings singing and is great also. Her singing is splendid.

"Pleiades" is a rare treat of an album.

-Anna Maria Stjärnell, Collected Sounds Women in Music

---

One of the most anticipated releases of this year, Pleiades proves well worth the wait. This mesmerizing album of dark ethereal music is the first collaboration of two of goth's finest female vocalists- Dru Allen of This Ascension and Summer Bowman of Machine in the Garden. These two sirens weave an irresistible spell of seduction with their haunting soprano vocals and together they create a lush bed of dream-like harmonies to accompany beautiful new renditions of Old World classics such as "Weep, O Mine Eyes" and "Scarborough Fair." In addition to stellar new versions of medieval compositions, the duo also offers several enchanting original songs and instrumental pieces. Pleiades is an exceptional release and is highly recommended to lovers of dark neo-classical and ethereal music.

-Camille Ambrose, Dark Realms Magazine

---

Once I received word of a full-length album from this collaborative project, it really gave me something to look forward to. And now it's out and has been receiving positive reviews and here at Gothic Paradise, I just have to chime in with my own positive review of this excellent work.

I think the easiest place to start with this album is just by introducing the excellent talents of the participating musicians on this album. Obviously, the backbone and founding members are Summer Bowman and Dru Allen. Both contribute vocals and musical instruments and their own unique styles and talents. Summer's haunting vocals often carve through the soundwaves such as in the mysterious, beautiful and aptly named "In The Dark" as well as another favorite of mine, "Hide Away". Dru contributes her magnificent talents that we've grown to love over the past decade with This Ascension on many beautiful tracks, also haunting and beautiful on "In The Dark" and harmonizing beautifully on the Spanish traditional piece "Riu Riu Chiu". We can't forget the contributions of Matson Belle taking the lead vocals on "Invocation of the Sun", with childlike splendor. Regeana Morris of The Changelings fame contributes her vocals and additional instruments on "Ripple". And finally, Rebecca Colleen Miller takes the lead on "Mysterium", one of many included traditional pieces from ages long past.

The combination of all of these vocalists, the magnificent music and atmosphere just create something absolutely stunning. Words that come to mind are dreamy, haunting, moody, beautiful and many, many more tha just bring the best and most heartfelt emotions to mind. From the original title track written by Mirabilis with the slow, ambient-like soundscapes to the deep and moving track "In The Dark" with the tribal drums and thick atmospheres. This album is just one piece after another of deep, haunting beauty.

The bottom line with this album — if you enjoy any style of Ethereal or Neo-Classical music, this is for you. You will love it!