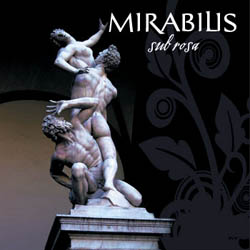 Sub Rosa
(Projekt207) Projekt/Middle Pillar Presents ©2007
Purchase online from Amazon.com
, the Machine in the Garden and other retailers.
track listing:
World Indifferent

lyrics

The Journey

lyrics

The Vastness

lyrics

Nature Boy
The Flowers Pressed Down

lyrics

Undercurrent
Il Est Bel Et Bon
O Maria Mater Pia
Odyle
Angel Eyes
Aubade

lyrics

A Ballade of the Centre

lyrics

Farce

lyrics

Because
Sub Rosa

lyrics

World Indifferent (Restoration Mix)
About Sub Rosa:
Mirabilis - the collaborative neo-classical/heavenly voices duo Summer Bowman of The Machine in the Garden and Dru Allen of This Ascension - return with Sub Rosa, the brilliant follow-up to their 2004 debut, Pleiades. The new album mixes classical sensibilities with exotic electronics and acoustic instrumentation to complement the vocal depth listeners are familiar with from Dru and Summer. The vocals are supported with a melancholic arrangement of flute, hammered dulcimer, and live percussion mixing with multi-layered vocal stylings to invoke a range of emotional textures.
Sub Rosa is a Latin term meaning secrecy, literally translating to "under the rose." The rose in ancient times was a symbol of sworn confidence of participants at a meeting. Mirabilis uses these connotations to refer to the subtleties and new layers explored on this release. These unseen, uncharted territories explored on Sub Rosa will draw listeners in to a new musical journey.
---
Reviews of Sub Rosa:
A high quality blend of ethereal and the neo-classical, this is the second album from Summer Bowman and Dru Allen (The Machine In The Garden and This Ascension respectively) which does sound surprisingly different from what you may be used to in either modern ethereal layered sounds, historical ethereal with its structural style usually close to folk, or the neo-classical strains you frequently find heavily dignified or infiltrated by Industrial pomposity. What this duo do, with the help of a few select others, to create very simple settings for subdued vocals, and to create changes in atmosphere by often simplifying things still further.

It's obviously a world apart from their Gothier existences, and sounds like a thoughtful refuge; an austere landscape warmed by their voices. 'World Indifferent' is a sad sounding introduction with a discreet synth wash, dominantly woven vocals and some steady percussive rhythm. 'The Journey' seems more emotionally dismal again, as I assumed it's preparation for death (if not it's an alarming journey). It sounds like the traditional folk Ego Likeness have tackled.

'The Vastness' is striking in its simplicity and double stirring as a result, the vocals almost building an eerie presence and doing quite strange things in their delivery. 'Nature Boy' is like a church choir with a lead vocal in front and very brief with 'The Flowers Pressed Down' even sweeter. 'Undercurrent' offers a complete contrast, darker and quietly oppressive.

The twittering, bubbling 'Il Est Bel Et Bon' is like a merry Renaissance joust, with 'O Maria Mater Pia' its sadder sister. 'Odyle' sticks out like a wiggling sore thumb, with Cindy Adzuki Chang to the fore, the initially droning pulse giving it a bumpier fuselage but it speeds up and slims to a darting gait. 'Angel Eyes' then comes over like a plaintive early wax cylinder entreaty come piercing spiritual.

'Aubade' is a pleasing plonk of piano and high, airy vocals, and 'A Ballade Of The Centre', 'Farce' and 'Because' take us into more conventional ethereal pop circles, with some cornily witty wordplay and close harmony uniting. 'Sub Rosa' veers away in otherworldly beauty, and the album ends weirdly with 'World Indifferent (Restoration Mix)' which sort of works, in that it shows how strong the actual piece is that it can withstand the rather unruly, squashy shift in rhythmical assault.

An album which is reassuring in its tidy glory, but also holds the listener initially at arms length, being so composed, meaning you need to work with it to feel comfortable with it, or you're left as a spectator impressed by their control as though they're set pieces, which can be the clinical effect of some bands (like Qntal). It's worth the effort, and it's records like this which remind you where the term Heavenly Voices comes from.

---

To say that Middle Pillar act Mirabilis also fits in on Projekt with its second album would be to understate a bit -- they almost seem designed for it, at least that part of the label that has consistently shown a soft spot for medievally inclined performers via the Dead Can Dance template, no bad thing when done right (and no question they do it especially well on the instrumental/wordless vocal piece "Undercurrent"). So if the photos of the core duo of Dru Allen and Summer Bowman, both singers as well as instrumentalists, suggests a session either for Propaganda magazine or an SCA flyer, that shouldn't put off anyone not dyed in that particular wool. A mix of originals and reinterpretations suggestive of new labelmates Unto Ashes on their many albums, Sub Rosa hits all the expected sonic marks -- moody, minimal arrangements, stately drumming -- but relies on Allen's and Bowman's excellent vocals at the core. Their singing has the same clear, strong feel to it as the underrated Lynn Canfield's does, and on a cappella songs like "The Flowers Pressed Down," one of several such pieces on Sub Rosa, the effect is entrancing. Among the other originals, a standout is "The Journey," sung and co-written by guest performer Cindy Adzuki Chang in memory of a departed relative. The covers, meanwhile, include two jazz-age standards -- "Nature Boy" and "Angel Eyes," both given gently unnerving takes thanks to more a cappella arrangements (the latter also given a fake vinyl scratch for effect) -- as well as a faithful take on the Beatles' "Because." The fragility and calm singing of the original is thrown into fine relief by the singing here, suggesting less obvious roots to their approach.

-Ned Raggett, AllMusic Guide

---

Dru Allen (This Ascension) and Summer Bowman (the Machine in the Garden) weaved their gossamer honey voices, and bewitching lyrical talents to form Mirabilis. Their second album "Sub Rosa", is where wildflower and forest fairies, the seas and the mountains, the spiritual entities, and the innocence of all life from which inspiration develop, go to seek comfort and rejuvenate their magical gifts, so that they, may continue to show us how special, peaceful, unique, and truly beautiful from within, and out, our world and the goodness of humans are to the heavens.

"Sub Rosa", offers 16-tracks of gothic, ethereal, classical melodies; hauntingly moving vocals of sweet, ghostly, and beautiful joy, all which opened my heart, and my respect toward Mirabilis' artistry. Some of those songs are, "World Indifferent", "Undercurrent", "O Marie Mater Pia", "Aubade", "Because", "Sub Rosa" and "World Indifferent (Restoration Mix)."

Visionaries; believers; painters of the written word; songbirds from another time, are what make Mirabilis such musical and poetic goddesses. Their new album "Sub Rosa", solidifies that Dru Allen and Summer Bowman have unlocked realms, and submerged themselves into the colorful and surreal bliss, then awoke with lucid stories of those dream journey interpretations.

-Lynda Dale MacLean, Grave Concerns

---

This is the second album of the heavenly voices duo Mirabilis, consisting of Summer Bowman from The Machine in the Garden and Dru Allen from This Ascension. Pleiades, the debut album of this duo was originally released in 2004 by Middle Pillar Presents, but thereafter it became very quiet. Therefore I was happily surprised to see that Projekt records signed Mirabilis and in cooperation with Middle Pillar decided not only to release this new album, but also to re-release the Pleiades recording. Perhaps this will result in some more recognition for Mirabilis, which they certainly deserve based on the quality of their music.

Mirabilis creates wonderful neo-classical music with ethereal vocals from both ladies. The warmth and slightly exotic electronic sound has been given more depth by the use of flute, dulcimer and live percussion. These musical ingredients create a warm and crystal clear sounding musical spectrum in which the melancholic vocals sound seductive and lush whilst weaving their dreamy harmonies.

Mirabilis takes inspiration from classical vocal pieces of various different times in history. On Sub Rosa we even are treated on a composition by Lennon & McCartney. Highlights are hard to mention since everything has been performed on such a high level, yet i personally find the Arabic sounding 'Odyle' something special with regards to atmosphere. 'World Indifferent' ends the album quite surprisingly because a heavy thumping beat has been added in order to take it to the dance floor.

The combination of voice and music of Mirabilis is interesting for fans of heavenly voices and neo-classical music as well as fans of world music. Fans of Lisa Gerrard, Loreen McKennit, Mediaeval Babes and The Machine in the Garden will certainly love this.

-TekNoir, Gothtronic